| | | |
| --- | --- | --- |
| Vol 8, No 269 | September 26, 1981 | Saturday Evening |
Nolan Ryan's throws his Fifth No-Hitter
Born This Date
Author J Frank Dobie born
ALICE (1888)
On this date in 1888, author and folklorist J Frank Dobie was born in Live Oak County.
Researcher Thomas V Munson born in Illinois
ASTORIA IL (1843)

On this date in 1843, Thomas V Munson was born. Munson's research into grapes, led him to north Texas where grapes grow wild. In the 1880s, a root disease wiped out 80% of the vinards in France. Munson used the Texas grape's root stock to graft to the French plants, thereby saving the wine industry and much of the economy of France.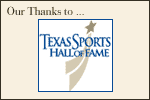 Breaks Kofax's Record
HOUSTON

(1981)

On this date in 1981, Houston Astros pitcher Nolan Ryan pitched his fifth career no-hitter, breaking the record set in 1965 by Sandy Koufax. Ryan becomes only the third picture in Major League history to pitch a no-hitter in both leagues, his previous four with the American League California Angels.
Ryan went on to pitch a sixth and seven no-hitter, with the Texas Rangers, setting the new record for no-hitters.

Capitol Desk
Texas-Oklahoma Border Settled.
WASHINGTON DC

(2000)
On this date in 2000, President Bill Clinton signed into law the official boundary between Texas and Oklahoma as the vegetation line alone the south Shore of the Red River. If the vegetation line changes, landowners will pay state taxes to the state in which their land was located on January 1st of that year.