| | | |
| --- | --- | --- |
| Vol 8, No 58 | February 27, 1948 | Friday Evening |
Tarrant Field in Fort Worth renamed Carswell AFB
Obituaries
Pianist, Van Cliburn dead at age 78
FORT WORTH

(2013) On this date in 2013, one of the great pianists of all time, Van Cliburn, died at age 78.
   In 1958, at the height of the Cold War, Van Cliburn won the first International Tchaikovsky Competition in Moscow, returning home to a ticker tape parade in New York City.
   In 1962, supporters and admirers began the Van Cliburn International Piano Competition which is held every four years in Fort Worth.


Born This Date
John B Connally born in Floresville
SEGUIN (1917)

On this date in 1917, future Governor, and U S Secretary of the Treasury under Richard Nixon, is born in Floresville. Connally is also remembered for injuries received from the same bullet that kills John F Kennedy in Dallas in 1963.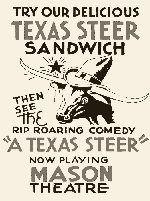 Carswell AFB
FORT WORTH

(1948)
Fort Worth Army Airfield is renamed today for Major Horace S Carswell, Jr, a hero of the Pacific War. Carswell stayed with his plane in 1944 rather than abandon a crew member whose parachute was shot up. His plane did not make it, and eventually crashed into a mountain. In 1946 Carswell was postumously awarded the Medal of Honor.