| | | |
| --- | --- | --- |
| Vol 8, No 146 | May 26, 1933 | Friday Evening |
Tuberculosis claims Jimmie Rodgers, 35
Today in Sports
Former Aggie Coach Homer Norton dies
ROSENBURG

(1965)
On this date in 1965, former Texas A&M football coach Homer Norton died. In 1939, Norton led the Aggies to a perfect 10-0 regular season, then beat Tulane in the Sugar Bowl to win A&M's only National Championship. For the next 8 years, Norton's Aggies would fail to beat Texas even once.

Born This Date
John Wesley Hardin born in Bonham
BONHAM (1853)

On this date in 1853, John Wesley Hardin, outlaw, convict, and later attorney, was born in Bonham Texas, to the son of a Methodist preacher.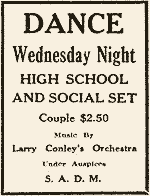 Jimmie Rodgers dies
KERRVILLE

(1933)
On this date in 1933, The "Father of Country Music" Jimmie Rodgers died. His fight with tuberculosis, and need for a dryer climate, brought him to Kerrville, where he lived out his live, giving concerts locally. From 1927 until his early death in 1933, the former railroad brakeman, wrote and recorded dozens of country tunes including "T for Texas" and "Standin' On the Corner (Blue Yodel #9). On a recording trip to New York and 36 hours after recording his last song, "Years Ago", Jimmie died at age 35.