| | | |
| --- | --- | --- |
| Vol 8, No 128 | May 7, 1824 | Friday Evening |
Texas and Coahuila become one State
Today in Sports
The Ballpark in Arlington becomes Ameriquest Field
ARLINGTON

(2004)

On this date in 2004, the name of the home field for the Texas Rangers was officially changed from The Ballpark in Arlington, to Ameriquest Field in Arlington.
Many fans and tax payers in Arlington were not happy with the name change, because it was their money that built the stadium. In 2007, Rangers severed ties with Ameriquest and renamed the stadium, Rangers Ballpark in Arlington.

Obituaries
DPS Chief Homer Garrison, dead at 66
AUSTIN (1968)

On this date in 1968, longtime head of the Texas Department of Public Safety, Home Garrison, died at age 66.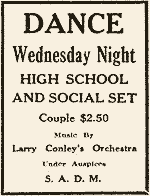 Texas denied Statehood
MEXICO CITY

(1824)

In 1824, as the new Mexican Constitution was evolving, pieces were being enacted into law. One provision enacted on this date in 1824, forced Texas and Coahuila into becoming a single Mexican state until Texas could sustain enough population to become its own state. That meant that Texas would NOT get it's own Senators to the Mexican Congress, but share Senators and Congressmen with Coahuila.
   Settlers in Texas, who had willingly become Catholic, who had taken oaths to become Mexican Citizens, who had brought commerce and wealth to the region, and who served Mexico as loyal subjects, were still being treated like outsiders, tolerated rather than respected. Efforts to acknowledge the growing population of Texas, and establish it's independent statehood failed, eventually leading to conflicts with Mexican authorities, and the Texas Revolution.