| | | |
| --- | --- | --- |
| Vol 8, No 260 | September 17, 1961 | Sunday Evening |
Final Play of the game gives Dallas first Win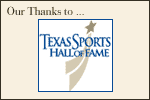 Cowboy's First Victory
DALLAS

(1961)

In the final play of the season opener, Allen Green kicked a 27 yard field goal to give Dallas it's first NFL victory in history against the Pittsburgh Steelers at the Cotton Bowl. For the season, Eddie LeBarron scored 14 touchdowns in 10 games, and rookie Don Meredith scored 11 touchdowns in 4 starts. Dallas would finish the 1961 season 4-9-1.

Education Desk
A&M Becomes a Sea-Grant College
COLLEGE STATION

(1971)

On this date in 1971, Texas A&M University was designated a sea-grant college in recognition of oceanographic development and research. A&M was one of the first four institutions to be so designated. In August 1989, it will also be designated a Space-Grant college, and become one of only a few colleges in the nation to be a land- sea- and space-grant college.