| | | |
| --- | --- | --- |
| Vol 8, No 272 | September 29, 1977 | Thursday Evening |
State Treasurer, Jesse James dies at 72
Today in Sports
Cowboy's Bill Howton sets new NFL Rushing Record
WASHINGTON DC

(1963)

On this date in 1963, Cowboys wide receiver Bill Howton broke Don Hutson's all-time rushing record with a 14-yard catch. Dallas would go on to lose to Washington 17-21.


Born This Date
Oail Andrews (Bum) Phillips, born in Nederland
NEDERLAND (1923)

On this date in 1923, OA "Bum" Phillips was born in Nederland in southeast Texas. In 1975 Phillips was made Head Coach and General Manager of the Houston Oilers, and remains their winningest coach in history (59 wins to 38 losses). Phillips was known for his stocky build, his country ways, and his crew cut.
Gene Autry born in Tioga in Grayson County
SHERMAN (1907)

Orvon Gene Autry was born on this date in 1907. Country music star, turned actor, he was one of the greatest country artists to come out of the depression. His hits include "Tumbling Tumbleweed", "Back in the Saddle Again" and all-time Christmas favorite "Rudolf the Red-nosed Reindeer".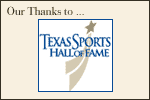 Jesse James dies
AUSTIN (1977)
Since 1941, The Texas State Treasurer was a man by the name of Jesse James. Whether the name's similarity to the notorious outlaw helped in his election and relection or not, he was able to holt his elected post for over 35 years. On this date in 1977, Jesse James died at the age of 72.