| | | |
| --- | --- | --- |
| Vol 8, No 326 | November 21, 1980 | Friday Evening |
Who Shot JR? Name Revealed on TV Show.
Today in Sports
Cleveland beats Dallas before Sellout Crowd
DALLAS

(1965)

On this date in 1965, 76,251 fans watched the Dallas Cowboys in their loss to Cleveland 24-17. This was first sell out Dallas in franchise history, and the second largest crowd ever to witness a Dallas Cowboys game. Earlier this season, a crowd of 80,451 in Cleveland watched the Cowboys lose to the Browns 17-23.


Born This Date
LaSalle born in Rouen France
PARIS, FRANCE (1643)

On this date in 1643, in Rouen, France, René-Robert-Cavelier, Sieur de La Salle was born. LaSalle spent his later years exploring the Mississippi River region for France. In 1687 while sailing in search of the mouth of the Mississippi, he overshot the delta and landed in Texas.
Ray Hildebrand born in 1940
JOSHUA (1940)
On this date in 1940, Ray Hildebrand is born in Joshua. In 1962 he and another senior from Howard Payne College in Brownwood, Jill Jackson dropped by the studio of local dj Major Bill Smith for a benefit show in Fort Worth. The scheduled talent didn't show up, so Smith asked Ray "What do you have?" Then and there Ray and Jill recorded "Hey Paula". Smith released the record locally. Phillips Records picket it up and after a name change (they couldn't have Ray and Jill singing "Hey Paula", the record became a smash, hitting No. 1 for three weeks in 1963.

It was Kristin
HOLLYWOOD CA

(1980)

Following a summer of speculation following the March 1980 shooting of JR Ewing on the hit television series "Dallas", it was revealed on this date who the shooter was. In the fifth week of the 1980-81 season, after four episodes of accusations and suspense, it was revealed that Sue Ellen's younger sister, Kristin had fired the gun. It was revealed that Kristin (played by Mary Crosby) had an affair with JR and pulled the fateful trigger. JR survived to play another ten seasons.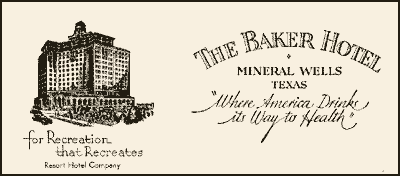 Entertainment Desk
Elvis performs at Houston's Magnolia Gardens
HOUSTON (1954)

Elvis Presley performed an afternoon show at the Magnolia Gardens in Houston on this date in 1954. Later in the evening Elvis performed at Cook's Hoedown Club, also in Houston. He continued to perform in Houston and Northeast Texas through the end of the month. This was Elvis first tour through parts of Texas.
Exploration Desk
Bowie searching for Silver, attacked by Indians
SAN SABA (1831)
On this date in 1831, Jim Bowie and his company of 10, were attacked by a band of 164 Indians while search the San Saba river for the "Lost Silver Mines". During the attack, fifty Indians are killed, another 35 injured. Bowie's men suffer no casualties, except for the loss of their horses.
Music Desk
Young singer, Elvis Presley sings in Houston
HOUSTON

(1954)

On this date in 1954, an upcoming singer from Tupelo Mississippi, Elvis Presley first appeared in Texas. He sang at the Magnolia Gardens in Houston, and later that day, at Cook's Howdown Club. Presley had been performing publically only a few months when he came to Texas. In the coming January, he would give four performances in the Texas Panhandle, and change the life of Buddy Holly.
National Desk
Baylor awards Honorary degrees to VP and wife
WACO (1936)
On this date in 1936, Vice President John Nance Garner and his wife both receive honorary Doctors of Law degrees from Baylor University. This is the first time in American history that both a husband and wife received honorary degress simultaneously.