| | | |
| --- | --- | --- |
| Vol 8, No 14 | January 14, 1874 | Wednesday Evening |
Outgoing Governor Refuses to Leave. Capitol Armed
Obituaries
Former Gov Allan Shivers dies of Heart Failure
AUSTIN

(1985)

On this date in 1985, former Governor Allan Shivers died of a massive heart attack in Austin. He assumed the Governorship in 1949 at the death of Beauford Jester, and held that office for another 7 1/2 years. As governor, he successfully fought Truman for Texas tidewaters. In his later years, he served on the board of Austin National Bank, Texas Commerce Bank, and the UT Board of Regents.

Howard Hughes Sr Died in Houston
HOUSTON

(1924)

On this date in 1924, Howard Robard Hughes, Sr., founder of Hughes Tool Company died. His son, Howard Hughes Jr., 18, is left to inherit his father's company upon his 21st birthday. His uncle will operate the company in the mean time.

Armed Men Fill Capitol
AUSTIN (1874)
When Governor Edmund Davis, the last Republican Governor before the modern error, lost his bid to Richard Coke for reelection by a wide margin, he refused to relinquish the office. The Capitol filled with armed men. Davis wired President Ulysses Grant requesting Federal troups to assist him retain the office, but Grant urged him to abide by the will of the people. Davis finally departed, but bolted the door to the Governor's office, requiring friends of the new Governor to use an axe to break in.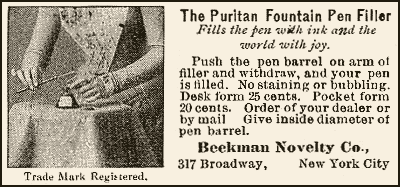 Military Desk
Davy Crockett volunteers in Texas struggle
NACOGDOCHES

(1836)

On this date in 1836, Davy Crockett and 65 other men signed oaths volunteering for six months in the service of Texas: "I have taken the oath of government and have enrolled my name as a volunteer and will set out for the Rio Grande in a few days with the volunteers from the United States."
Upon completion of their six months of service, the men are each to receive 4,600 acres of land (about 50 square miles).
Before reaching the Rio Grande, however, Crockett stopped in San Antonio and met with James Bowie. Santa Ana was already marching toward the city.