| | | |
| --- | --- | --- |
| Vol 8, No 113 | April 23, 1846 | Thursday Evening |
Mexico Declares War on the United States
Today in Sports
Johnson pitches no-hitter, and still loses
HOUSTON (1964)
On this date in 1964, Ken Johnson of the Houston Colt 45's became the only pitcher in major league history to pitch a complete game no-hitter, and still lose. In the top of the 9th inning, Pete Rose of the Cincinnati Reds, scored the winning run by virtue of an error, ground out, and another error.


Born This Date
Pop Singer Ray Peterson born in Denton
DENTON (1939)

On this date in 1939, Pop singer, Ray Peterson was born in Denton. His hit "Tell Laura I Love Her" launched a career and his own label, Dune Records. On his own label, he had a second Top 10 hit with, "Corinna, Corinna".
Roy Orbison born in Vernon
WICHITA FALLS (1936)

On this date in 1936, rock and roll superstar, Roy Kelton Orbison was born in Vernon Texas. Elvis Presley once referred to Roy as "The Greatest Singer in the World".
Roy's smash hits include "Only the Lonely", "Blue Angel", "Running Scared", "Blue Bayou", "It's Over", and "Oh Pretty Woman".
Dolph Briscoe born in Uvalde
AUSTIN (1923)
On this date in 1923, future Governor Dolph Briscoe was born. He served as Governor from 1973-79. He was a conservative Democrat, and the only Governor in the modern era to keep his pledge of "No New Taxes". Briscoe also became immortalized for his roll in closing down the notorious "Chicken Ranch" in La Grange.

Statehood leads to War
MEXICO CITY

(1846)

On this date in 1846, following the Annexation of Texas four months earlier, Mexico declared war on the United States. Two days later (April 25th), 1,600 Mexican troops crossed the Rio Grande and fought American troops from Fort Brown.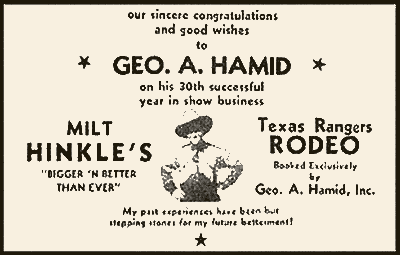 Entertainment Desk
The Louisiana Hayride comes to the Heart O' Texas
WACO (1955)
The Louisiana Hayride, a live radio show from Shreveport, did a remote broadcast from the Heart O' Texas Coliseum in Waco Texas on this date in 1955. Featured performers included Slim Whitman, Jim Reeves and a young artist from Mississippi named Elvis Presley.
Elvis made a huge name for himself with concerts all over West Texas, the Panhandle, the Plains, Houston, and Central Texas, and half a dozen appearances on Hayride.
One group of his fans in attendance at his Lubbock concert was Buddy Holly and his Country band, later known as the Crickets. After seeing Elvis in concert, they all decided to give up country music altogether, and focus instead on Rock and Roll, and quickly became a hit with local appearances around Lubbock.
Lifestyles Desk
110 Polish Immigrants arrive at Galveston
GALVESTON

(1867)

On this date in 1867, Polish Texan, James Meyer Levy, returned from Poland with 110 emigrants to Texas. These Poles soon settled in New Waverly in Walker County, hometown of Levy. Levy had been sent to Poland by a group of New Waverly cotton farmers who organized the Waverly Emigration Society the previous year.
Society Desk
Jim Bowie Marries daughter of Mexican Governor
SAN ANTONIO

(1831)

When Jim Bowie arrived in San Antonio for the first time in 1828, he was probably the finest looking, wealthiest eligible young bachelor to arrive in a generation. Soon he would become engaged to the daughter of the provincial Governor Don Juan Martin Veramendi.
On April 23, 1831, Bowie and Ursula Veramendi were married. Upon appearing before the mayor of San Antonio, he pledged to pay Ursula a dowry of $15,000. Bowie claimed his age as 32 (he was actually 35), and the value of his properties at $222,800. That was greatly exaggerated relying on over valuation of property in Arkansas and Louisiana, and included some money still owed him.
In fact, Bowie had to borrow over $2,500 from his in-laws for a honeymoon trip to New Orleans and Natchez, Louisiana. After the honeymoon, Jim and Ursula Bowie settled in San Antonio.