| | | |
| --- | --- | --- |
| Vol 8, No 259 | September 15, 1896 | Tuesday Evening |
Staged Train Crash Kills Three near Waco
Born This Date
Actor Tommy Lee Jones born in San Saba
SAN SABA (1946)
On this date in 1946, actor, Tommy Lee Jones was born in San Saba. Jones attended high school in Midland at Robert E Lee High School (at the same time as Laura Bush). He graduated from St. Mark's School near Austin. Jones was an offensive tackle on Harvard's 1968 undefeated football squad.
Jones had numerous rolls on broadway, television and the movies. He starred in "Men in Black", "The Fugitive", and "JFK" and most recently "No Country for Old Men".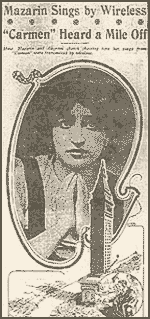 Crash at Crush
WACO (1896)

10 minutes after 5pm, on September 15, 14 miles north of Waco, in a specially built town named for him, Wm Crush raised his hat, and two Baldwin steam engines charged down the shallow hills headed for sure destruction before the largest crowd ever before seen in Texas (40,000). Special Grandstands were built and a day long celebration ensued. Then at 5:10 pm, racing at a closing speed estimated over 100 miles per hour, the two trains, as planned, crashed head on. Then, unexpectedly, after a moment of silence, the boilers on the two engines exploded almost simultaneously, killing two young men and one woman. Six others were injured by flying objects. The huge crowd pushed forward, picking up debris as souvenirs. Ragtime composer Scott Joplin immortalized the crash with his march "Great Crush Collision."

Education Desk
The University of Texas Opens in Austin
AUSTIN (1883)
On this date in 1883, the University of Texas opened in Austin. 221 students attend the organizational session. Eventually other campuses will open in the University of Texas system, and the name will be changed to The University of Texas at Austin.
Political Desk
Slavery Abolished in Mexico and Texas
MEXICO CITY (1829)
On this date in 1829, slavery in the Republic of Mexico, which included Texas, was abolished by decree of President Guerrero of Mexico.
Transportation Desk
Butterfield Wins Mail Contract for Overland Stage
WASHINGTON DC

(1857)

On this date in 1857, John Butterfield Sr., won a $600,000 contract with the US Post Office to deliver the St. Louis mail to San Francisco. His company was known as The Butterfield Overland Stage Company. With the help of over $2,000,000 in stockholder investments which included Butterfield and William G Fargo, the new Butterfield Overland Stage Company grew to employ over 800 people, 139 stage and relay stops, 250 Concord stages, and 1,800 horses and mules. Stops were made approximately every 20 miles, many at forts along the frontier. From west Texas to Tuscon Arizona, mules were used as they were less attractive to Indians in the territory. The stages were run from 1858 until the start of the Civil War. The route took 22-25 days and cost $200 one-way. Following the war, other stages were contracted to carry mail, including the Butterfield, Well-Fargo Overland Stage Company.
Weather Desk
Storms, River Surges Flood San Angelo
SAN ANGELO (1936)
On this date in 1936, storms over the North and Middle Concho rivers cause the rivers to flood downtown San Angelo and over 500 homes. Storms lasted 4 days, drowning 4 and doing over $5 in damages.