| | | |
| --- | --- | --- |
| Vol 8, No 259 | September 16, 1875 | Thursday Evening |
Hurricane destroys Indianola, All Shipping Halted
Today in Sports
Texans beat Oakland 34-16
DALLAS

(1960)

On this date in 1960, the Dallas Texans beat the Oakland Raiders 34-16. This was the first win for Lamar Hunt's new AFL franchise. The Texan's draw 24,500 in average attendance at their home field, the Cotton Bowl, which was shared with the Dallas Cowboys for the Texans first four years. In May 1963, Hunt would move the team to Kansas City.


Born This Date
Billy F Gibbons of ZZ Top born in Houston
HOUSTON

(1949)
On this date in 1949, Billy F Gibbons was born in Houston. In 1969, he joined with Dusty Hill, Frank Beard and manager Bill Mack Ham to form ZZ Top.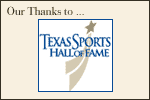 Indianola Destroyed
SAN ANTONIO (1875)

176 people of the 2,000 inhabitants of Indianola were killed and the city destroyed by a hurricane that struck the city on this date in 1875. Indianola is the major port for passengers and goods destined for San Antonio, and those headed West to California.
Education Desk
New University Student Center is Air Conditioned
AUSTIN

(1933)

On this date in 1933, the new air conditioned University of Texas Student Union opened. It featured lunches for 27 cents.
Labor Desk
Waverly Emigration Society formed
WAVERLY

(1866)

Following the civil war, Cottom farmers were in need of laborers. On this date in 1866 in Walker County, several cotton farmers organized the Waverly Emigration Society to bring laborers from Europe. The Society met at a store owned by James Meyer Levy, a Polish Jew. Levy was selected to travel to Poland and recruit laborers for the local cotton farmers. Levy traveled to his own hometown of Exin and surrounding community, and recruited 29 families. After their entry into New York, they traveled to Galveston on board the CW Ward, arriving in April 1867.
Military Desk
Mexican Federalists Revolt again Spanish Rule
NACOGDOCHES (1810)

On this date in 1810, the war for Mexican Independence from Spain began. Father Miguel Hidalgo issues his Grito de Dolores, which called for the end of Spanish rule. His followers, mostly peasants, revolted against the tyranny of the Spanish. Mexican Independence Day celebrates this event.
Santa Anna releases Texas prisoners
MEXICO CITY

(1844)

Probably in fulfillment of his wife's dying request, General Santa Anna signed an order today in 1844, to release 104 remaining Texas prisoners.
Dorie Miller enlists in the Navy
DALLAS

(1939)

On this date in 1939, Waco born Doris "Dorie" Miller enlisted in the Navy as Mess Attendant, Third Class. He hoped to travel and earn some money for his family. He later was commended by the Secretary of the Navy, and advanced to Mess Attendant, Second Class, First Class, and finally to Cook, Third Class. Miller was serving at this rank when Pearl Harbor was attacked by the Japanese, and without any training manned a gun and shot down at least two of the enemy aircraft.
Transportation Desk
First Mail Stage leaves Saint Louis for California
ST LOUIS MO

(1858)

On this date in 1858, John Butterfield Sr. left the St. Louis Post Office with 2 bags of mail and one passenger, Waterman L. Ormsby, a correspondent for the New York Herald Newspaper. John Butterfield Sr., president of the Butterfield Overland Stage Company had recently won the $600,000 contract from the US Post Office to deliver mail from the Missouri River to San Francisco. Along with $2,000,000 in private investments which William Fargo, the stage ran successfull for 2 1/2 years until the Civil War broke out. On this day in 1858, however, there was celebration in the streets of Saint Louis. John Butterfield rode the stage only as far as Fort Smith, Arkansas. W.L. Ormsby rode the entire route through deserts, mountains and bands of hostile Indians, all the way to San Francisco, arriving 24 days after leaving St. Louis. Ormsby wrote about his trip, about the wonderful people and prairies along the way. Following this inagural trip, 5-10 passengers would pay $200 each to ride to California. The stage company emloyed 800 people, 250 stage coaches and 1,800 horses and mules.