| | | |
| --- | --- | --- |
| Vol 8, No 62 | March 2, 1836 | Wednesday Evening |
Texas declares Independence from Mexico
Born This Date
Sam Houston born in Virginia
RICHMOND VA (1793)

Sam Houston, first President of the Republic of Texas, was born on this date in 1793 in Rockbridge Co., Virginia. He is the fifth of nine children born of Sam and Elizabeth (Paxton) Houston.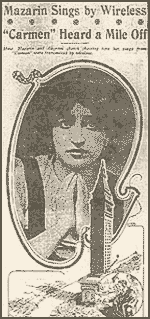 Texas Independence
NAVASOTA

(1836)

On Sam Houston's 48th birthday, this date in 1836, Texas declared its independence from Mexico. At the Convention of 1836, held at Washington-on-the-Brazos the Texas Declaration of Independence was adopted by the delegates, and formally signed on March 3rd. Talk of Independence had rumbled thoughout Texas for several months.
In December, Goliad had already passed such a declaration which was also circulating around Texas. But this convention made it official. With representatives from all sections of Texas (generally the coastal planes at the time), Texans could now speak with one voice. Independence!
Delegates to the convention then turned their attention to the creation and adoption of the Constitution of the Republic of Texas.

Political Desk
Texas joins the Confederacy
AUSTIN

(1861)

On this date in 1861, Texas officially joined the Confederate States of America. Following a statewide election that voted 3-1 for Secession, a Secession Convention was held, and Governor Sam Houston was asked to take an oath of allegiance to the Confederacy. When he refused, he was forced from office, and a new government formed. In February, Texas seceded from the Union and on March 2nd, it joined the Confederacy.
Technology Desk
WBAP Fort Worth Begins Broadcasting
FORT WORTH (1922)
On this date in 1922, WBAP radio began broadcasting in Fort Worth. For many years, WBAP and WFAA in Dallas alternated use of 570AM and 820 AM. 820 AM was licensed for 50,000 Watts clear channel broadcasting, which reached most of the contiguous United States.