| | | |
| --- | --- | --- |
| Vol 8, No 148 | May 28, 1974 | Tuesday Evening |
Stanley Marsh 3 builds the Cadillac Ranch
Born This Date
T-Bone Walker born in Linden
MARSHALL

(1910)

On this date in 1910, Blues guitarist and singer, T-Bone Walker was born in Linden in Cass County. He was a tremendous influence on BB King, and a giant in the early days of the Blues.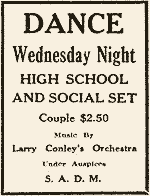 Panhandle Picasso
AMARILLO

(1974)

In 1973, helium millionare, Stanley March 3 (he never liked the more prentious "III") invited a San Franciso art collective named The Ant Farm, to create his famed "Cadillac Ranch" near the remnants of old Route 66 in the Texas Panhandle, west of Amarillo. On this date in 1974, the artwork was completed.
The work of art is composed of ten half-buried cadillacs (1948 to 1963 models) equally spaced into the ground, all facing West, and placed at the same angle of the pyramid at Cheops, Egypt. The art work has since become a mecca for roadside tourists from all over the world.
Every few years, a fresh coat of paint is added to the artwork so that tourists can paint their own grafitti on them. The cadillacs were located at old junk yards in the area, and each cost Marsh about $200.
In 1997, the entire display was exhumed and reburried about two miles farther West so as to avoid local development, and present an appropriate bleak setting for photographers. Marsh is also the brains behind the huge pair of legs located between Amarillo and Canyon.


Oil Desk
Santa Rita No 1 Strikes Oil in Reagan County
SAN ANGELO

(1923)

On this date in 1923, Driller Carl Cromwell of the Texon Oil and Land Co, reached 3050 ft at the Santa Rita No 1 oil well in Reagan County "when a rattlesnake noise began at the well bore and changed to the sound of a wild prairie wind." The first well drilled on University of Texas lands, Santa Rita No. 1, was officially transformed into a bona fide oil well.
In August on 1923, the University received its first royalty check. Since then, The University of Texas has become one of the richest Universities in the nation, with an endowment fund currently second only to Notre Dame.
Santa Rita, for which the well was named, is the patron saint of the impossible. The story of the Santa Rita well was featured in the 2002 film, "The Rookie" starring Dennis Quaid.
Political Desk
Republican John Tower takes US Senate seat
AUSTIN (1961)
On this date in 1961, in a special run-off election, college professor John Tower became the first Texas Republican since reconstruction to win a US Senate seat.