| | | |
| --- | --- | --- |
| Vol 8, No 107 | April 17, 1837 | Monday Evening |
The Independence Seized by Mexican Navy
Today in Sports
Robinson hits Homer on First bat in the Majors
CINCINNATI OH

(1956)

On this date in 1956, Beaumont born, Frank Robinson hit a homerun on his first at-bat in the major leagues. Playing for the Cincinnati Red Stockings, Robinson went on to hit 38 home runs his rookie year. Robinson still holds the major league record for the most home runs on opening day (8), and is the only player ever to be named the MVP in both leagues, the world series, and the all-star game.
When he retired, Robinson was 5th on the all-time homerun list behind Aaron, Ruth, Bonds and Mays. In 1998, his number was officially retired by Cincinnati.


Texas Navy Weakened
MATAGORDA

(1837)

On this date in 1837, with the Mexican Navy harrassing shipping along the Texas Gulf Coast, the Texas Navy ship Independence under the command of George W. Wheelwright, was apprehended at the mouth of the Brazos River by the Mexican Navy ships Vencedor del Alamo and Libertador.
The Independence later saw action in the Mexican navy under the new name Independencia.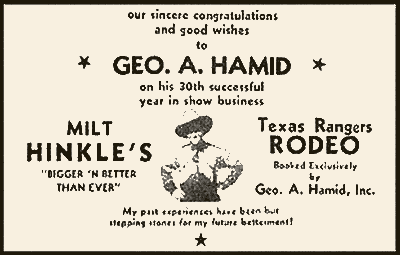 City Desk
Space Craft Crashes into Windmill at Aurora
AURORA

(1897)

On this date in 1897, Judge J.S. Proctor's windmill in Aurora, Texas was struck by an unidentified flying object which then crashed into a nearby field. Many of the residents of Aurora watched the craft as it passed over the town square, and was apparently having trouble, slowing to 12 miles per hour when it hit the windmill and went to pieces.
The pilot of the craft who died in the crash, was said to be "not of this world", and was buried in an unmarked grave in the Aurora cemetary. The metal debris was thrown into a well on the property of the crash site. The owner at the time contracted severe rhumatism which he blamed on drinking the well water. The well was later sealed over with a cement slab.
Today an historical marker exists at the entrance to the cemetary where the alien was buried.
Education Desk
Legislature OKs state college, Texas A&M
AUSTIN

(1871)

On this date in 1871, the Texas Legislature approved the establishment of the state's first publically supported institute of higher learning, The Agricultural and Mechanical College of Texas. $75,000 was appropriated as well as the proceeds from the sale of 180,000 acres of public land. Brazos county donated 2,416 acres for the school. The first classes were taught on October 4, 1876. The name will later be officially changed to Texas A&M.
Entertainment Desk
McMurtry wins Pulitzer Prize for Lonesome Dove
NEW YORK CITY

(1986)

On this date in 1986, Archer City native, Larry McMurtry won the Pulitzer Prize for liturature for his book "Lonesome Dove". McMurtry had previously arthured The Last Picture Show and Terms of Endearment.