| | | |
| --- | --- | --- |
| Vol 8, No 161 | June 10, 1981 | Wednesday Evening |
Ryan strikes out Rose three times then Tips Hat
Obituaries
Heavyweight Boxing Champ dies in North Carolina
DURHAM NC (1946)

Black Heavyweight Boxing Champion Jack Johnson, who was born in Texas, died in an automoble accident in North Carolina.




Ryan vs Rose
CINCINNATI OH

(1981)

On this date in 1981, baseball fans in Cincinnati packed into River Front Stadium to see Pete Rose make history. He was only one hit away from tieing and two hits from surpassing Stan Musiel 3,630 hits, the most in major league history. Facing Astros pitcher Nolan Ryan, Pete hit for a single on his first at bat tieing Musiel.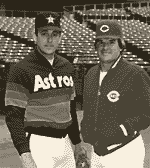 Musiel's 3630th and final hit was a blooper in 1963 just beyond the reach of Cincinnati rookie, Pete Rose. Now it was Pete Rose's turn.
   For each of Pete Rose's next three at bats, fans rose to their feet cheering for Rose to set a new hitting record. But facing Nolan Ryan, that would not be easy. Ryan's 100 mph pitches blasted past Rose leaving him standing in the batter's box with three strike outs in a row. After the third and final strike out, Ryan tipped his hat to Rose. On this night, Pete Rose was denied!
Exploration Desk
Moses Austin dies before Settling Texas
ST LOUIS MO

(1821)

Just two months after learning that his idea to settle 300 families in Texas was approved by Spanish officials, Moses Austin died at the home of his daughter in Missouri on this date in 1821.
   His dying wish is that his son Stephen should continue in his "Texas Venture". Steven helped settle hundreds of Families in Texas, and within fifteen years, Texas would become an independant Republic.