| | | |
| --- | --- | --- |
| Vol 8, No 140 | May 20, 1958 | Tuesday Evening |
Van Cliburn receives Hero's Welcome in New York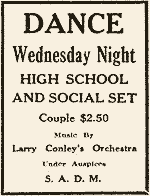 Pianist Van Cliburn
NEW YORK CITY

(1958)

After winning the First International Tchaikovsky Piano Competition in 1958 at the height of the Cold War, Van Cliburn received a Hero's welcome in New York City complete with a ticker tape parade.
Many of the judges for the Competition in Moskow feared retaliation of Soviet Premier Nikita Kruschev if they appeared to favor an American. Three of the judges shaved as much as 10 points (of a 25 point perfect score) from Van Cliburn and adding a few points to other competitors. When the results were in, however, the judges approached Kruschev with the results. He responded "Is he the best?" They assured Kruschev that he was. "Then give him the prize!"
Van Cliburn has continued to thrill audiences for over 50 years. His foundation sponsors a similar competition in Fort Worth every four years, the Van Cliburn International Piano Competition.