| | | |
| --- | --- | --- |
| Vol 8, No 244 | September 1, 1969 | Monday Evening |
Texas Technical College renamed Texas Tech
Born This Date
Lecil Travis (Boxcar Willie) Martin born
WAXAHACHIE (1931)

On this date in 1931, Lecil Travis Martin, "Boxcar Willie" was born in Sterrett in Ellis County. He was a regular on the Grand Ole Opry. Later he was one of the first stars to settle in Branson, Missouri, where he died in 1999.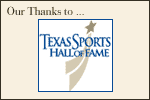 Texas Tech renamed
LUBBOCK

(1969)

When Texas Technological College (in Lubbock) was renamed Texas Tech University, it was not without controversy. The Board of directors wanted to keep the "TT" monicre, but the student body was adamantly opposed to the name "Tech" thinking it a made-up word, and undignified.
Rumors flew that faculty would resign if the name were changed to include "Tech". In January, 1969, when the student newspaper and radio station were closed for final exams, the Board of Directors unanimously approved of the name "Texas Tech University" placing it ahead of all others under consideration.
Other options before the legislative committee were "Texas State University," "Texas State University of Arts, Science and Technology," and "The University of the Southwest" among others.
On May 25th, the committee decided on "Texas Tech" partly in light of the fact that the college board approved it. On June 6th, Governor Preston Smith signed the bill officially renaming the college, and on this date in 1969, the new name "Texas Tech University" became the official name of the university in Lubbock.

Aviation Desk
Passenger Service begins at Love Field
DALLAS (1927)
On this date in 1927, Love Field in Dallas, commenced commericial airline service as the first passengers were boarded.
Capitol Desk
Limited Sales Tax goes into effect in Texas
AUSTIN (1961)
On this date in 1961, the first state sales tax in Texas history went into effect. It was called the Limited Sales and Use Tax.
Education Desk
Ranger Junior College founded
RANGER (1926)
On this date in 1926, Ranger Junior College was founded. For years thereafter, classes were held on the top floor of Ranger High School.
SWTSTC becomes Southwest Texas State College
SAN MARCOS (1959)
On this date in 1959, Southwest Texas State Teachers College in San Marcos, officially changed it's name to Southwest Texas State College. It is later renamed Texas State University.
Technology Desk
Fort Worth gets Telephone Service
FORT WORTH

(1881)

On September 1, 1881, The Southwest Telegraph and Telephone Company began telephone service in Fort Worth with approximately 40 customers. Just three months prior, Dallas received telephone service. Other cities that had phone service by this time were Galveston, Houston, San Antonio and Austin.