| | | |
| --- | --- | --- |
| Vol 8, No 271 | September 27, 1956 | Thursday Evening |
Babe Didrikson Zaharias dies of Cancer at 45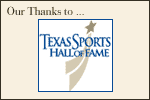 Babe Zaharias dies
GALVESTON

(1956)
On this date in 1956, famed professional golpher, olympic athlete and woman athelete of the 20th century, Babe Didrikson Zaharias died of colon cancer at John Sealy Hospital in Galveston.
  Zaharias excelled in every sport she played. In addition to winning two gold medals in the US Olympics, she exceeded in golf, basketball, track, and also was an avid roller skater. In 1938, she was the first woman to compete in the Los Angeles Open. It would be another 50 years before another woman competed in the PGA. In 1999, Sports Illustrated declared Babe Didrikson Zaharias the Woman Athlete of the 20th Century.
Babe was born in Port Arthur in 1914. At the time of her death at age 45, she was still at the top of her golf game.