| | | |
| --- | --- | --- |
| Vol 8, No 92 | April 2, 1955 | Saturday Evening |
Louisiana Hayride comes to Houston
Obituaries
Cowboy Showman Bill Pickett dies at 61
AUSTIN (1932)

Born in Jenks-Branch (Travis County) in 1870, Bill Pickett invented "Bull-Dogging", (wrestling bulls to the ground by their horns). Picket's showmanship was a thrill for fans around the country, performing with many of the travelling cowboy shows at the time. He befriended many of the early pioneers in Old West shows. In 1932, he was kicked in the head by a horse and died of his injuries a few days later. He was 61. Will Rogers announced his funeral on the radio.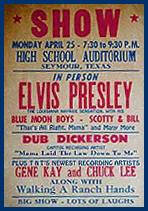 Elvis Presley performs
HOUSTON

(1955)
The Louisiana Hayride from Shreveport did a remote live broadcast from City Auditorium in Houston on this date in 1955. On the bill were Slim Whitman, Johnny Horton, Floyd Cramer, and new Rock-a-billy star named Elvis Presley. Elvis had appeared on The Louisiana Hayride on half a dozen occasions, and made three tours to Texas. It was reported that 2,000 people were turned away from the concert, as Slim Whitman and Elvis Presley brought the house down with ther performances.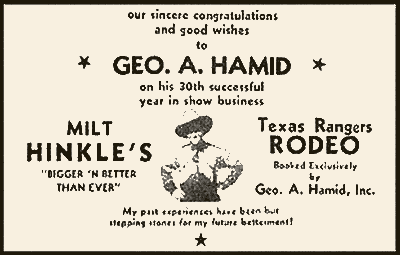 Entertainment Desk
New Television Show - Dallas - Premiers.
HOLLYWOOD CA

(1978)

On this date in 1978, the TV show Dallas premiered on a five week trial. The Show would become a hit world wide. The show cast Larry Hagman as the unprincipled JR Ewing, as well as Barbara Bell Geddes, Patrick Duffy, Victoria Principal, Jim Davis, Linda Gray, and Ken Kercheval.
Military Desk
Lucky Lady II lands, First to Circle Globe
FORT WORTH

(1949)
On this date in 1949, a B-50 Superfortress, the Lucky Lady II, landed at Fort Worth's Carswell Air Force Base after 94 hours and several mid-air refueling stops, and 23,452 miles in the air. Captain James Gallagher and his crew were the first in history to fly non-stop around the world.
Railroads Desk
Kansas Oklahoma and Gulf Railway Co Chartered
AUSTIN

(1921)

On this date in 1921, the Kansas, Oklahoma and Gulf Railway Company was Chatered to operate in Texas.
Weather Desk
Tornado Strikes Dallas, Oak Cliff
DALLAS

(1957)

On this date in 1957, a tornado struck Dallas and Oak Cliff. 10 are killed and over 200 injured.