| | | |
| --- | --- | --- |
| Vol 8, No 119 | April 28, 1988 | Thursday Evening |
Singer B W Stevenson dead at 38
Born This Date
Future Astronaut Paul Lockhart born in Amarillo
AMARILLO

(1956)

On this date in 1956, astronaut Paul S Lockhart was born in Amarillo. He graduated from Amarillo's Tascosa High School in 1978, received his BA from Texas Tech in 1978, and his Master's Degree in 1981 from the University of Texas (Aerospace Engineering).
He joined NASA in 1996, and flew on two Space Shuttle missions, both in 2002 on the Endeavour. In his brief career with NASA, Lockhart logged just over 26 total days in space.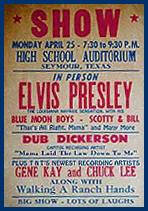 B W Stevenson dies
DALLAS

(1988)
On this date in 1988 B W Stevenson died from complications of heart surgery. His 1973 hit "My Maria" was later recorded by Brooks and Dunn who sent it to No.1 for three weeks in 1996.
Stevenson was 38.