| | | |
| --- | --- | --- |
| Vol 8, No 294 | October 21, 1967 | Saturday Evening |
Tolbert referees first Terlingua Cookoff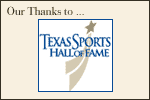 Terlingua Chili Cookoff
TERLINGUA (1967)
In the late 1960s, with Texan LBJ in the office the President, anything Texan, including Chili, became a fascination with America. So it was when Dallas Morning News writer Frank X Tolbert and Holiday magazine writer H Allen Smith went toe to toe as to who knew more about Chili.
   In August of 1967, the Chili war of words began to go three-alarm. It was decided to settle the only way grown men can, with a chili cookoff. Terlingua was chosen as the location, and judges were selected. Wick Fowler was selected to represent Texas, against Smith and his so called (by Tolbert) vegetable stew.
   Then at high noon, October 21, 1967, the moment of truth arrived. Judge Hallie Stillwell voted for the Smith and judge Floyd Schneider voted for Fowler. It was all up to the final judge, Dave Witts. But when Witts took his first taste, he immediately went into gastric distress claiming he had been poisoned.
   When he recovered, he claimed that his taste buds had been permanently damages and he could no longer judge. Referee Frank X Tolbert declared there to be no winner in Terlingua's first ever World's Championship Chili Cookoff.

Business Desk
First National Bank in Texas
SAN ANTONIO (1822)
On this date in 1821, The Banco Nacional de Tejas was founded in San Antonio, becoming the first National Bank in Texas.
Capitol Desk
Sam Houston is made an official Cherokee citizen
ST LOUIS MO

(1829)

On this date in 1829, Sam Houston, having only recently resigned as Governor of Tennessee is made a Cherokee Citizen by his adopted father, Chief Oolooteka (John Jolly). He had been recovering from malaria and receiving Indian medicine.
Oil Desk
Oil Strike near Ranger
RANGER

(1917)

In 1917, Ranger, was booming. Oil brought workers to the area by the trainloads. Mud from the wells made the streets impassable except by mule drawn sleds. Within three years, most of the streets in Ranger were paved with red brick. But by 1920, oil was found in Young county just 30 miles away and new wells in Ranger became a rarity. The population of Ranger dropped from 17,000 to just a few thousand in just a few months. Entire houses were moved to Breckenridge. But in Ranger, new schools, stores, and homes were closed and abandoned. Ranger became a quiet town again.