| | | |
| --- | --- | --- |
| Vol 8, No 204 | July 23, 1877 | Monday Evening |
John Wesley Hardin captured in Pensacola
Today in Sports
Jackie Robinson admitted to Baseball Hall of Fame
COOPERSTOWN NY

(1962)
On this date in 1962, Jackie Robinson was admitted to the Baseball Hall of Fame.
As a lieutenant in the US Army in 1944, Robinson was court-marshalled at Fort Hood for events related to his refusal to sit at the back of a non-segrated military bus. He was later acquitted, and soon left the army, joining baseball's Negro League.
The following year, he brought that league's wild style of play to the Major Leagues, breaking baseballs long standing "color barrier". He quickly became the hottest ticket in baseball, and brought the Brooklyn Dodgers six pennants in ten years. He was named baseball's most valuable player in 1949.
Jackie was an all-star six of his ten years, and during that time, had 1518 hits, 137 home runs, and a career batting average of .409.
Following his retirement after the 1956 season, Jackie Robinson became active for civil rights, and marched in the now famous 1963 March for Civil Rights, in Washington DC.

Oddibe McDowell hits for the Cycle.
ARLINGTON

(1985)

On this date in 1985, Texas Ranger slugger, Oddibe McDowell hit for the cycle (single, double, triple and a home run), and became the first player in franchise history to do so. His final hit tied another franchise record of 8 hits in a row (without a walk or an out).


Born This Date
Jane Wilkerson Long born in Maryland
CHARLES CO, MD (1798)

On this date in 1898, Jane Wilkerson Long, the "Mother of Texas" was born in Charles County, Maryland. She bore a child on December 21, 1821, but despite her own claims, census records show that the baby was not the first Anglo baby born in Texas.

Outlaw caught in Florida
PENSACOLA FL

(1877)

On this date in 1877, John B Armstrong of the Texas Rangers arrested John Wesley Hardin and three other members of his gang, on a train in Pensacola Florida. Hardin had fled with his family to Florida after he had killed a Texas Ranger among others. He was later tried and sent to prison at Huntsville, eventually being pardoned after serving 16 years of a 25 year sentence.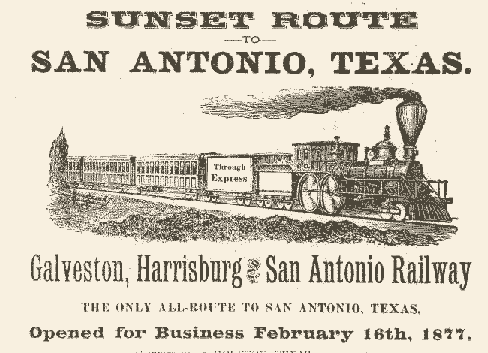 Capitol Desk
Texas Legislature ratifies Women's Suffrage
AUSTIN

(1919)

On this date in 1919, the Texas Legislature voted to ratified the 19th amendment, which provides that neither the individual states of the United States nor its federal government may deny a citizen the right to vote because of the citizen's sex.
Entertainment Desk
"Best Little Whorehouse in Texas" Premieres
AUSTIN

(1982)

On this date in 1982, a movie depicting the closing of the infamous Chicken Ranch premiered, starring Dolly Parton and Burt Reynolds.
"The Best Little Whorehouse in Texas" was a huge success on broadway, and a box office success at a time when Hollywood just wasn't making musicals.
Depicted in the movie are the Texas Governor, the investigative reporter, the madam, and the local sheriff. Of course, the names have all been changed to protect the ... well, the innocent, cause as Dolly says in the movie, "There Ain't Nothing Dirty Going on Here".
Exploration Desk
Cavern of Sonora open to the Public
SONORA (1960)
On this date in 1960, the Caverns of Sonora, purported to be the most beautiful in America, opened in Sonora, west of Junction.