| | | |
| --- | --- | --- |
| Vol 8, No 267 | September 24, 1903 | Thursday Evening |
Train Arrives at Port Bolivar Three years late
Today in Sports
Pittsburgh beats the Cowboys in Season Opener
DALLAS

(1960)

On this date in 1960, the Dallas Cowboys, in their first NFL game, were beaten by Pittsburgh, 28-35. In their first season, Dallas would not win a single game, but did manage a tie in December.


Born This Date
Future NFL Star, Joe Greene born in Elgin
ELGIN (1946)

On this date in 1946, Charles Edward Greene was born in Elgin. Greene was raised by his mother in Temple, and played football at segregated Dunbar High School.
Greene played defensive tackle for North Texas (home of the Mean Green). He later played 13 seasons for the Pittsburg Steelers of the NFL, and was inducted into the NFL Hall of Fame in 1987.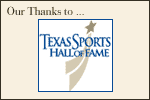 Delayed by Storm
GALVESTON

(1903)

Train #1 of the Gulf and Interstate Railroad, which left Beaumont, Texas at 7:00 AM on September 8, 1900, arrives at Port Bolivar at 11:10 AM, September 24, 1903 — three years, sixteen days, and ten minutes late (due to the Galveston Storm of 1900), making it the longest scheduled train run in recorded history.