| | | |
| --- | --- | --- |
| Vol 8, No 126 | May 6, 1937 | Thursday Evening |
Hindenburg Zeppelin Crashes, Burns in New Jersey
Today in Sports
The Iceman inducted into Basketball's Hall of Fame
SPRINGFIELD MA

(1996)

On this date in 1996, former San Antonio Spur, George Gervin, the Iceman, was inducted tino the Naismith Memorial Basketball Hall of Fame. During his career, Gervin scored 26,595 points, the eighth highest in NBA history.
Originally in 1974, Gervin resisted being traded from the Virginia Squires to the San Antonio Spurs, even going into hiding for a week while the two teams and the NBA hammered out the trade. Eventually Gervin, joined the Spurs, scoring 23,602 points over 12 years with the team. In 1987, his number 44 was officially retired by the Spurs, as fans paid tribute to the greatest player in Spurs history.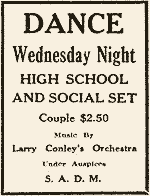 36 Dead
LAKEHURST NJ (1937)
On this date in 1937, The German airship, Hindenburg, the largest zeppelin in the world crashed in flames at Lakehurst, New Jersey. The Hindenburg was more than 800' long, had 16 gas bags containing a total of 7,200,000 cu. ft. of explosive hydrogen gas.
Up until now, over 32,000 passengers had flown zeppelins over 100,000 miles without a single accident. But because of this tragedy, covered live on radio, the use of hydrogen in airships came to an end.
Soon smaller airships, called blimps, would use non-flamable helium to lift thier ships into the air. Germans had rejected the use of non-flamable helium which had already proven itself in several trans-Atlantic flights, but because of the cost (about $600,000 per ship), and the fact that the United States controlled all the helium production in the world, the Germans elected to go with the more dangerous hydrogen.
In all 15 passengers, 20 crewmen, and one line-handler were killed in the Hindenburg tragedy.



Entertainment Desk
John Denver performs Double Concert in Fort Worth
FORT WORTH

(1976)

In April of 1976, tickets went on sale for the upcoming performance by John Denver at the Tarrant County Convention Center. Tickets for the Fort Worth concert were sold out within minutes! At the time, Denver had several hit albums and singles, as well as several hit television specials. To meet the tremendous demand for tickets, it was soon announced that John Denver would give back-to-back concerts on the same day in at the Convention Center. Both sell out performances took place on this date in 1976.
Weather Desk
Tornado hits North of Sulphur Springs (Hopkins Co)
SULPHUR SPRINGS

(1907)

On this date in 1907, a tornado hit north of Sulphur Springs in Hopkins County, killing 5, injuring 19.
Tornado hits town of Frost, 25 Dead.
FROST

(1930)

On this date in 1930, an F4 tornado touched down near Bynum, in Hill County, crossed into Navarro County east of Mertens, and struck the town of Frost killing 25. The tornado traveled northeast causing more death and destruction south of Rankin, near Bardwell. In Ellis County the tornado killed several people in Ennis.
   In total, this tornado, the sixth deadliest in Texas history, killed 41, and injured another 200.
Another F4 tornado on this same date, touched down 300 miles away just northwest of Kenedy in Karnes County. Along its path, this tornado destroyed many weakly constructed homes and shelters, killing 36 and injuring 60 more, making this second storm of May 6th 1930, the seventh deadliest in Texas history.