| | | |
| --- | --- | --- |
| Vol 8, No 201 | July 19, 1876 | Wednesday Evening |
First Railroad to reach Fort Worth
Today in Sports
Cowboys Training Camp begins in Oregon
FOREST GROVE OR

(1960)

On this date in 1960, the first Dallas Cowboys training camp opened at Forest Grove, Oregon.


Obituaries
Folk Music collector Lomax dies at 87
SARASOTA FL

(2002) On this date in 2002, Austin born musicologist and folk music collector Alan Lomax died in Sarasota Florida.
Lomax was the first to record such early folk artists as Muddy Waters, Lead Belly, and Woody Guthrie. To his credit are dozens of collected works of Folk Music.
It was Lomax who gave Bob Dylan his legendary thumbs down when Dylan introduced an electric guitar in his performance at the Newport Folk Festival in 1965.

Country Singer, Lefty Frizzell dies
NASHVILLE TN

(1975)

On this date in 1975, "Lefty" Frizzell died. His string of hits includes "Long Black Veil" and "Saginaw Michigan" for which he received a Grammy Award.


Texas and Pacific
FORT WORTH

(1876)

On this date in 1876, Texas and Pacific railroad became the first railroad to reach Fort Worth. Eventually the railroad extended from Louisiana to El Paso, and became the Primary line to carry passengers and freight westward from Dallas-Fort Worth.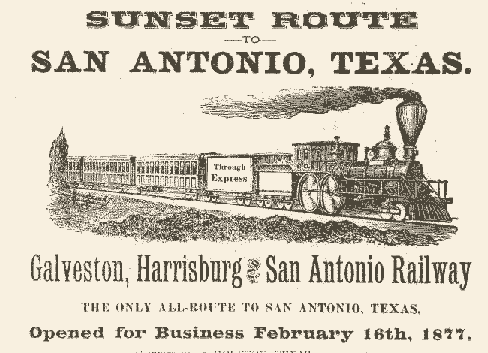 City Desk
Lake Arlington Dam completed
ARLINGTON (1957)
On this date in 1957, construction was completed on the dam creating Lake Arlington.
Crime Desk
Sam Bass wounded in Shootout in Round Rock
ROUND ROCK (1878)

On this date in 1878, Sam Bass and his gang were scouting out banks in Round Rock planning a robbery for the following day.
Texas Rangers, tipped off that Sam Bass was in town, were waiting, but were caught off guard by Bass and his men. In the shootout that followed, one of Bass's gang was killed, one escaped, and Bass himself was fatally wounded. Sam Bass died two days later. His grave is still an attraction at the cemetery on Sam Bass Road, just west of I-35.