| | | |
| --- | --- | --- |
| Vol 8, No 326 | November 22, 1963 | Friday Evening |
President Kennedy Killed in Dallas
Today in Sports
Lamar Hunt launches the American Football League
DALLAS

(1959)

With eight teams lined up, the first AFL draft took place on this date in 1959. For years, Lamar Hunt wanted to bring an NFL Francise to Dallas, but was denied with every request. By 1959 he had committments from six others ready to form a rival AFL league. Dallas, Denver, Minneapolis, and Houston would be joined by Los Angeles and New York. By November 1959, Boston and Buffalo joined the six charter owners. The first draft went 33 rounds, and the new AFL was on its way.


Obituaries
Mary Kay Ash dies in Dallas
DALLAS

(2001)

On this date in 2001, Mary Kay Ash died in Dallas after suffering a stoke five years before. When she retired in 1963, she and her son started Mary Kay Cosmetics, today the largest company of its kind in the world, famous for awarding Pink Cadillacs to their best salesmen.

Roy Hufheinz dies in Houston at 70
HOUSTON

(1982)

On this date in 1982, Judge Roy Hufheinz died at his home in Houston. He served as a judge, and later as mayor of Houston. He was also a major force in getting a major league baseball franchise to in Houston. A few years later, he was instrumental in getting Houston to build the Astrodome, which he billed as "The Eighth Wonder of the World". He was 70 years old.


Gov Connally Injured
DALLAS

(1963)

On this date in 1963, Lee Harvey Oswald of Dallas, fired upon a car carrying President John Kennedy and Governor John Connally and their wives. Connally survives, but Kennedy is pronounced dead at Parkland Hospial shortly afterward. Gunshots were seen coming from a building just above the President motorcade. Dallas Police have caputured a suspect, Lee Oswald, and are holding him under tight security. Lyndon Johnson took the Presidential oath on board Air Force One before taking off with his wife, Jacqueline Kennedy, and the body of President John Kennedy.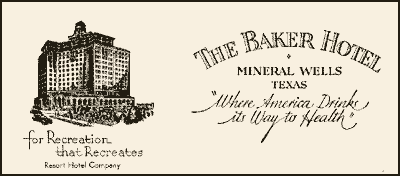 Political Desk
Dignitaries in Uvalde celebrate Garner's 90th
UVALDE (1958)
On this date in 1958, dignitaries such as Harry Truman, Lyndon Johnson, Price Daniel and Sam Rayburn gathered in Uvalde to celebrate the 90th birthday of Speaker and Vice President, John Nance Garner.
Lyndon Johnson sworn in aboard Air Force One
DALLAS

(1963)

Following the death of John F Kennedy in Dallas, Lyndon B Johnson was sworn in aboard Air Force One as the 36th President of the United States on this date in 1963. Following Johnson's oath of office, Air Force One left Dallas enroute to Washington carrying the body of the 35th President, and a small crowd which including Lady Bird Johnson and Jacqueline Kennedy.