| | | |
| --- | --- | --- |
| Vol 8, No 341 | December 7, 1941 | Sunday Evening |
JAPAN PLANES ATTACK PEARL HARBOR
Today in Sports
Nolan Ryan signs with the Texas Ranger
ARLINGTON

(1988)

Having already announced retirement from the Houston Astros, Nolan Ryan rejoins the Major League by signing with the Texas Rangers on this date in 1988. During the next several years for the Rangers, Ryan will pitch his 7th no-hitter and extend his strike out record to over 5,700.

Obituaries
Country Singer Jerry Scoggins dies at 93
LOS ANGELES CA (2004)

On this date in 2004, Country Singer Jerry Scoggins died in Los Angeles. Born in Mount Pleasant, his career spanned six decades. He is best remembered however for his deep baritone vocal on "The Ballad of Jed Clampett" the theme song for the TV series, "The Beverly Hillbillies", which he performed with Lester Flatt and Earl Scruggs on guitar and banjo. Scoggins was 93.


It's WAR!!
WASHINGTON DC (1941)

On December 7th 1941, Japanese War Planes attacked the United States Pacific Fleet at Pearl Harbor, in a surprise early morning attack that drew America into World War II. Before the attack ended, 2,403 were dead or dieing, 188 planes were destroyed, 8 battleships were damaged or destroyed and United States Pacific Fleet crippled. In the months that followed the entire population of the United States would gear up for war, enduring loss, sacrifice, and hardship for the sake of liberty. Texas did it's part. Texas A&M University provided more officer's in the war than both of the military academies combined, hundreds of projects were put on hold, and the name "Tex" found it's way into nearly every unit in the War.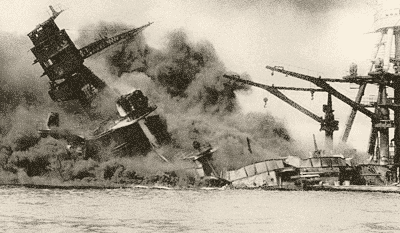 Capitol Desk
Legislature puts temporary halt to Debt Collection
AUSTIN (1861)
On this date in 1861, as the Civil War loomed, the Texas legislature suspended all law related to debt collection.
Military Desk
Ben Milam falls victim to Mexican attack
SAN ANTONIO

(1835)

In San Antonio, after a full day of attacks by the Mexican Army led by General Cos, Ben Milam is killed on this date in 1835.
Navy Cook from Texas shoots down Japs at Pearl
HONOLULU HI

(1941)

When General Quarters sounded on the USS West Virginia, Doris Miller ("Dorie"), a black cook from Waco, Texas, tended to his carring wounded soldiers to safety. Then he manned a 50 caliber Browning anti-aircraft machine gun until he ran out of ammunition, and was ordered to abandon ship. Miller had not been trained to fire the heavy machine gun. "wasn't hard. I just pulled the trigger and she worked fine." Miller shot down one, and as many as three Japanese war planes, saving untold American lives.
Society Desk
Trans-Pecos Museum formed
ALPINE (1925)
On this date in 1925, the Trans-Pecos Museum and Historical Society was formed at Alpine. A month later it changed it's name to West Texas Historical and Scientific Society.