| | | |
| --- | --- | --- |
| Vol 8, No 147 | May 27, 1942 | Wednesday Evening |
Wacoan, Dorie Miller receives the Navy Cross
Today in Sports
Red McCombs buys the Spurs for $47 Million
SAN ANTONIO

(1988)

On this date in 1988, the San Antonio Spurs were purchased by Red McCombs for $47 million from their original majority owner, Angelo Drossos.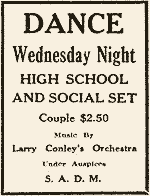 Hero of Pearl Harbor
HONOLULU HI

(1942)

On this date in 1942, Admiral Chester Nimitz, Commander in Charge of the Pacific Fleet, pins the Navy Cross on Doris "Dorie" Miller, at a ceremony on board the USS Enterprise in Pearl Harbor. Miller, a cook on the USS Navy took charge of a Browning anti-aircraft machine gun and fired at the invading planes until he ran out of ammunition 15 minutes later, shooting down at least two enemy aircraft and saving countless American lives. Miller had received no prior training on the big gun.


Labor Desk
Construction Starts on Benbrook Reservoir
FORT WORTH (1947)
Construction began on this date in 1947, on the Benbrook Reservoir in Tarrant County.
Military Desk
San Angelo Air Field renamed Goodfellow
SAN ANGELO (1941)
On this date in 1941, San Angelo Air Field was officially renamed Goodfellow Air Base (later Goodfellow Air Force Base) for Lt John James Goodfellow, Jr. World War One fighter pilot killed in combat Sept. 14, 1918
Technology Desk
Tunnel under Houston Ship Channel opens
HOUSTON (1959)
On this date in 1959, The Pasadena Tunnel was opened to traffic. Up til now, traffic from Houston to Pasadena on the other side of the Houston Ship Channel, had to take a ferry through ship traffic. The tunnel will alleviate long waits at the ferry crossing. The ferries from Galveston to Point Bolivar are still in operation.