| | | |
| --- | --- | --- |
| Vol 8, No 53 | February 22, 1898 | Tuesday Evening |
Fitzsimmons K.O.s Maher in the Rio Grande
Obituaries
Blues legend John Vandiver, Murdered
CONROE

(1985)

On this date in 1985, Texas Blues legend, John Vandiver was murdered along with his girlfriend/manager Debbie Davison at their home in Magnolia. He was a regular at the Armadillo in Austin. His recording of St James Infirmary is a classic.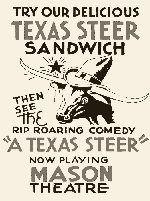 A Legend is Born
DEL RIO

(1898)

By 1898, most of the Western States and Mexico outlawed prize fighting. When the time came for Ruby Fitzsimmons to defend his title, there was no place to legally hold the fight.
Judge Roy Bean of Langtry saw the opportunity of a lifetime. He let it be known that he could secure a location for the event, offering to host the title fight on a disputed sand bar in the middle of the Rio Grande, outside the jurisdictions of either the US and Mexico.
Boxing fans and reporters from all over the West took the Southern Pacific to a tiny whistle stop in the desert of West Texas named Langtry.
After a round of drinks at Judge Bean's saloon, they made their way down to the foot bridge erected especially for the occasion to a sandbar in the middle of the Rio Grande. Under the watchful but helpless eyes of the Texas Rangers standing on a bluff above the river, and Mexican authorities on the other side, Bob (Ruby) Fitzsimmons decked Peter Maher in just 95 seconds.
The $10,000 winning purse for the fight, hand carried to the event by none other than lawman Bat Masterson, was awarded to Fitzsimmons, and another round of drinks purchased.
The following day, sportswriters, fans, and Texas Rangers returned to El Paso and places beyond to share the story with the rest of the nation. And from that day on, the name Judge Roy Bean would be known from coast to coast. A legend was born.

Capitol Desk
US gives up claim to Texas in exchange for Florida
WASHINGTON DC

(1819)

On this date in 1819, a treaty between the United States and Spain relinquished the US claim to Texas in exchange for Florida. The lands of the Mississippi river were claimed for France by LaSalle in 1682. When he returned to American in 1684, he settled not on the Mississippi, but instead at Matagorda Bay. LaSalle then established Fort St Louis as a base of military operations against Spanish Mexico. In search of the mouth of the Mississippi, LaSalle explored much of Texas as far as the Pecos and Rio Grande rivers to the south and west.
   By virtue of LaSalle's settlement and exploration of Texas, as far south as the Rio Grande, French had claims to Texas. In 1803, with the Louisiana Purchace, those claims transferred to the United States. On this date in 1821, the Adams-Onis Treaty relinquished US Claims to Texas in exchange for Florida. This treaty also sets the boundary between the US and Spanish Texas.
Music Desk