| | | |
| --- | --- | --- |
| Vol 8, No 115 | April 25, 1846 | Saturday Evening |
Mexican Troops Enter Texas
Born This Date
Actress Rene Zellweger born in Katy
KATY (1969)
On this date in 1969, Academy Award winning actress, Rene Zellweger was born in Katy outside of Houston to a Swiss father, and Norwegian mother. Her father worked in the Texas oil industry.
Rene graduated Katy High School before attending the University of Texas where she graduated in 1991. After college, she landed parts in several independent films (including Love and a .45) before moving to Hollywood. She went on to star in Bridget Jones' Diary, Chicago, Cold Mountain (receiving an Oscar), and Cinderella Man.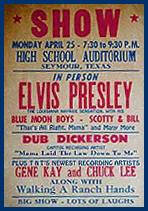 16 Killed in Brownsville
BROWNSVILLE

(1846)

Following Mexico's declaring war on the United States just days before, 1,600 Mexican Troops under General Anastasio Torrejon crossed the Rio Grande River near Brownsville, and attacked Texas dragoons stationed near there. Of the 62 Texans, 16 were killed the rest were captured.
A few days later the prisoners were released under an exchange agreement. But the damage had already been done. Americans were killed on American soil by Mexican troops. On May 13th, The United States declared war on Mexico.