| | | |
| --- | --- | --- |
| Vol 8, No 87 | March 27, 1836 | Sunday Evening |
Fannin's men executed by Mexican Army
Obituaries
Oil pioneer, Dad Joiner dies in Dallas
DALLAS

(1947)

On this date in 1947, oilman Columbus Marion Joiner died. In 1930, his well, the Daisy Bradford No. 3, blew near Henderson, ushering in the largest oil field in history at the time. Because he was the one that discovered the East Texas Oil Field, he was given the affectionate nickname, "Dad" Joiner.
   In 1940, near bankruptsy, he was forced to sell his interests in the East Texas Oil Field to Dallas millionare H.L.Hunt, adding to Hunt's fortunes. The idea and characters of televsion series "Dallas" was drawn from the Joiner/Hunt rivalry.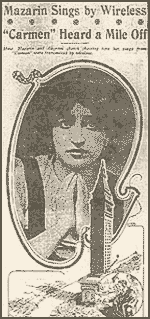 Texans Executed
GOLIAD

(1836)

On this date in 1836, on a Palm Sunday, more than 350 Texas prisoners, held at Goliad, were divided into groups, marched out into the open, and executed, under orders of Santa Anna. Only a few escaped. These were the remnants of Fannin's forces captured a short time earlier.
Exploration Desk
Natural Bridge Caverns discovered near San Antonio
NEW BRAUNFELS (1960)

On this date in 1960, between New Braunfels and San Antonio, Natural Bridge Caverns was discovered. The cave turned out to be the largest known caverns in Texas. NOTE: Some sources put the discovery date as March 7th, 1965
Political Desk
Martínez becomes Last Spanish Governor
MEXICO CITY

(1817)
On this date in 1817, Antonio María Martínez becomes the last Spanish Governor of Texas. On December 26, 1820, at the urging of the Baron de Bastrop, Martínez endorses Austin's plan to bring settlers into Texas. On August 17, 1822, under Mexican pressure, Martínez peacefully surrendered his office to José Félix Trespalacios of Mexico.