| | | |
| --- | --- | --- |
| Vol 8, No 359 | December 24, 1924 | Wednesday Evening |
Paradise Looted on Christmas Eve
Born This Date
Howard Hughes born in Houston
HOUSTON (1905)

On this date in 1905, future billionare Howard Robard Hughes was born in Houston. He later attended Rice and the California Institute of Technology, became a pilot, industrialist, and movie producer. Toward the end of his life, he became a recluse.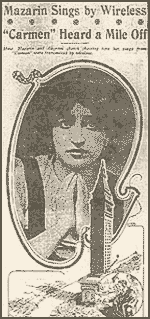 Paradise Looted
DECATUR (1924)
On this date in 1924, the small town of Paradise in Wise County, was looted, when a gang of thieves robbed virtually every store in town, including the bank.
Railroads Desk
First Locomotive arrives in Texas
HARRISBURG

(1852)

On this date in 1852, the first railroad locomotive in Texas arrived in Galveson. Following the completion of the railroad between Harrisburg (near Houston) and Stafford's point in September, the General Sherman began operation on the Buffalo Bayou, Brazos and Colorado Railway Company. By the time the General Sherman was retired in 1870, the railroad had become the Galveston, Harrisburg and San Antonio Railway Company. The engine was allowed to simply decay until it was eventually scrapped in 1899.
Religion Desk
Polish Priests establish Panna Maria
PANNA MARIA

(1854)

On this date in 1854, following a 200 mile walk from Galveston, a group of Polish Catholic Priests establish the town of Panna Maria. Panna Maria today is the oldest Polish community in the United States.