| | | |
| --- | --- | --- |
| Vol 8, No 256 | September 13, 1886 | Monday Evening |
Geronimo Arrives in San Antonio for Trial
Born This Date
Olympic Sprinter Michael Johnson born in Dallas
DALLAS (1967)
On this date in 1967, Olympic sprinter, Michael Johnson was born in Dallas. He graduated from Skyline High in 1986, and attended Baylor University, graduating in 1990.
Johnson won a gold medal in relay at the 1992 Olympics, and won gold medals 1993 World Championships in Germany in the 400 meter, and 4x400 meter relay (setting a record that still holds today).
In 1995, Johnson became the only man to become World Champion in both the men's 200 and 400 meter races.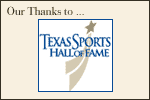 Angry Crowds Gather
SAN ANTONIO

(1886)

Under heavy military guard, Apache Indian leader Geronimo arrived in San Antonio on this date in 1886, to stand trial in US Court. Angry crowds gathered, and were anxious to drag Geronimo away and hang him on the spot.
Geronimo would not walk his native lands ever again as a free man. He spent the rest of his life as a prisoner-of-war, in Florida, Alabama, and finally at Fort Sill, Oklahoma, where he died on February 17, 1909.