| | | |
| --- | --- | --- |
| Vol 8, No 264 | September 21, 1971 | Tuesday Evening |
Baseball Senators move to Texas
Born This Date
Larry Hagman born in Fort Worth
FORT WORTH

(1931)

On this date in 1931, Larry Hagman was born in Fort Worth, the son of theatre actress, Mary Martin. Following a sucessful television career in the late 60s, playing Captain Tony Nelson opposite Barbara Eden in "I Dream of Jeannie". He would later star as the notorious JR Ewing in the hit television series "Dallas".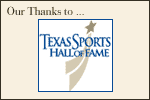 Renamed Texas Rangers
WASHINGTON DC

(1971)

On this date in 1971, approval was obtained to move the Washington Senators to Texas. The new team, under manager Ted Williams, will locate near Six Flags in Arlington and be called The Texas Rangers.
Approval for the move required nine votes of the American League owners. The vote was one vote short, so Gene Autry was visited in his hospital bed in California, voted "yes" by proxy, and the move was approved.

Crime Desk
Sam Houston shoots man in a duel in Kentucky
FRANKLIN KY

(1826)

On this date in 1826, Sam Houston wounds General William A. White in a duel fought outside of Franklin, Kentucky.
Military Desk
General Cos lands in Texas.
SAN FELIPE

(1846)

On this date in 1846, word reaches Stephen F Austin that General Cos has landed in Texas. Austin dispatches riders to alert the population that the Revolution has begun.