| | | |
| --- | --- | --- |
| Vol 8, No 37 | February 6, 1836 | Saturday Evening |
Crockett and Volunteers arrive in San Antonio
Today in Sports
Nolan Ryan become Texas Rangers club President
ARLINGTON

(2008)

On this date in 2008, Hall of Fame pitcher Nolan Ryan was signed with the Texas Rangers ... again. In 1988 the Rangers signed the Astros Picture to lead the team on the field, now Ryan will lead the Rangers in the front office. Ryan is still a big hero to the Rangers players, staff and fans, being the only player to ever has his number retired by the team.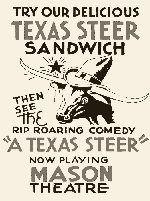 Crockett in San Antonio
SAN ANTONIO

(1836)

On this date in 1835, six men arrived in San Antonio from Nacodoches where they had recently enlisted in the Texas volunteers.
4,600 acres of land was promised to any man who would serve in the volunteers for six months. Among those volunteers arriving from Nacogdoches was Davy Crockett who was on his way to his assignment along the Rio Grande.
The six men made camp just outside town, but were later greeted by James Bowie and Antonio Menchacha. They were then taken to the home of Don Erasmo Seguin. Within a week, Santa Anna's army crossed the Rio Grande, so Crockett remained with Bowie in San Antonio.
Bowie, commander of the volunteer forces in San Antonio had orders to destroy anything of use to the Mexican army and flee San Antonio. However, the military commander there, Colonel Travis, had orders to defend San Antonio at all costs.
   When Santa Anna and his army arrived in San Antonio, Crockett, Bowie, Travis and approximately 150 other fighters, made their way to an abandoned mission to fight the Mexican army. One month later, all 150 were killed at the battle of the Alamo. Surviving women and children inside the Alamo, were given a blanket, and a few coins by Santa Anna, and then sent on their way.