| | | |
| --- | --- | --- |
| Vol 8, No 255 | September 12, 1993 | Sunday Evening |
Nolan Ryan says Goodbye to Fans
Obituaries
Record Producer Major Bill Smith dies
FORT WORTH

(1994)

On this date in 1994, Record Producer Major Bill Smith of Fort Worth died. Smith help launch the career of Ray Hildebrand and Jill Jackson (Paul and Paula) with their hit "Hey Paula" in 1962. Smith is also responsible for helping jump start the careers of Bruce Channel ("Hey, Baby") and J.Frank Wilson ("Last Kiss").


Born This Date
R&B Legend Barry White born in Galveston
GALVESTON (1944)

On this date in 1944, R&B superstar, Barry White, the "Man with the Golden Voice" was born in Galveston. Barry and his Love Unlimited Orchestra had dozens of hit songs including "You're the First, the Last, My Everything" and "Never, Never Gonna Give You Up."
Kenneth Threadgill born
GREENVILLE (1909)

On this date in 1909, Kenneth Treadgill was born. His brought his country music to Austin opening a Threadgills Tavern. Janis Joplin first performed there, and the two became close friends.
Treadgill is best known for his recording "T for Texas, T for Tennessee" He died in 1987.

Ryan's Last Home Game
ARLINGTON

(1993)

On this date in 1993, Nolan Ryan pitched in his final game at Arlington Stadium. Following the 4-2 lost to the Minnesota Twins, fans stayed behind for an on-field celebration.
Seven months later, the Ranger's resumed home play at their new stadium, The Ballpark in Arlington. It was Ryan who filled the seats for the Rangers the last few years, and built the Texas Rangers fan base, making the new stadium possible.
The major thoroughfare to the new stadium was renamed The Nolan Ryan Expressway.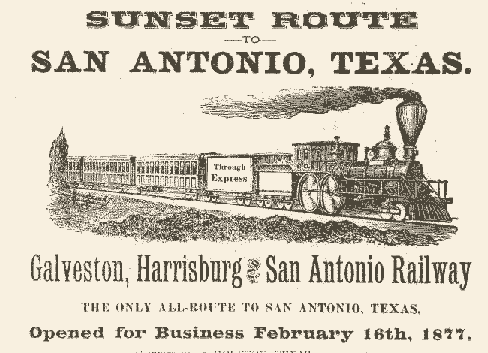 Oil Desk
Oil Well in Nacogdoches is a First for Texas
NACOGDOCHES (1866)
On this date in 1866, drilling began on an oil well at Oil Springs near Nacogdoches. This is the first oil well drilled in Texas.
Lyne Barret of Melrose Petroleum struck oil at a depth of 106 feet. The well produced about ten barrels of oil per day.
Weather Desk
Gulf Storm destroys Jean Laffite's Fleet
GALVESTON

(1818)

Jean Laffite used Galveston as his base of operations during his privateering along the Gulf Coast. His familiarity with the Louisiana delta region was a great asset to Jackson in the Battle of New Orleans. Still, Laffite was never pardoned by the United States. On this date a hurricane hit Galveston destroying Laffite's fleet. Within three years, Laffite would move on to the Yucatan peninsula.
Hurricane Hits Port Arthur
BEAUMONT

(1897)

On this date in 1897, a hurrcane hit Port Arthur in Southeast Texas, killing 13. At the time (1890s), hurricanes were not given names, and most came ashore without warning. Three years after this storm, Galveston was hit by an unnamed storm, killing thousands.